ABOUT PRIVATE LESSONS DURING THE PANDEMIC – WE OFFER IN-PERSON LESSONS, WITH APPROPRIATE PRECAUTIONS, FOR THOSE WHO WANT THEM. ANYONE WHO HAS HEALTH CONCERNS MAY CONTINUE TO TAKE LESSONS ON LINE.

THIS MAY CHANGE DURING THE TERM, DEPENDING ON LOCAL CONDITIONS AND GUIDANCE.

 
What We Teach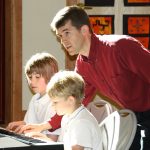 Mountain Top Music Center offers private instruction for all orchestral and band instruments (strings, winds, brass), plus harp, piano, bass, acoustic and electric guitar, voice, and percussion. Lessons in additional instruments can be arranged by appointment. Affordable instrument rental, tuition assistance, and payment plans are available to all students.
Who We Teach
Who We Are
Performance Opportunities
Ensembles
Instrument Rental
Tuition Assistance
Student Responsibilities
The study of music can be a joyous and rewarding experience. It offers a unique opportunity to develop simultaneously one's self-expression, artistry and self-discipline. In order to make good progress you will need to do the following:
Attend lessons regularly and be on time.
Practice every day in a quiet place. Remember that the quality of practice time is as important as quantity.
Keep your music and instrument in good order and bring your music to lessons.
Attend live music performances at every opportunity. Current Mountain Top students may attend any Mountain Top concert free of charge.
Enjoy yourself and remember to take pride in being a student of music.
Missed Lessons and Makeups
Weather Cancellation
Class Cancellation
Handbook