Mountain Top Music Center Community Orchestra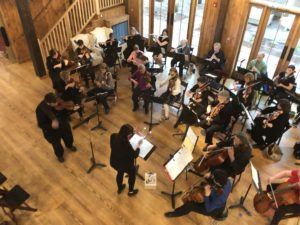 Mountain Top Music Center Community Orchestra is a free, non-auditioned ensemble welcoming musicians of any age with some experience and/or comfort with large-ensemble repertoire. The Orchestra rehearses weekly September through May and performs 3 or more concerts throughout the year. The programs vary from classical repertoire to film music to collaborations with dance and theater groups, and more. Concerts take place in the Majestic Theatre and throughout the region and are open to all by donation.
Interested participants should contact conductor Chris Dzengelewski. 
Holiday concert at the Majestic Theatre, 7 PM Wednesday, December 7,  2022. Admission by donation.
Join the orchestra for a humorous and interactive program of music introducing those new to the world of the orchestra to the wonders of symphonic music.
Featuring music from Harry Potter, Pixar, and great classical composers, an instrument petting zoo, interactive activities, and an informal setting where dancing, clapping, and more is encouraged.
Get into the spirit of the changing seasons with evocative music from a range of composers depicting landscapes, weather, and atmospheres.
Three Autumn Scenes — Christine Donkin
Hymn — Tim Johnston
Three Nature Walks — Alexandra Molnar-Suhajda
The Unanswered Question — Charles Ives
"The Iceberg's Lament" from The Arctic Suite — Ken Turley
The Huron Carol — Traditional, arr. Deborah Baker Monday — with the MTMC Youth Ensemble
The Snow Is Dancing — Claude Debussy, orch. André Caplet
"Troika" from Lieutenant Kije Suite — Sergei Prokofiev