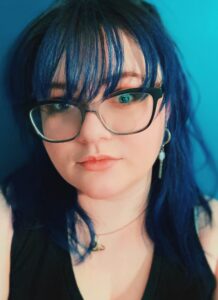 Meghan Kelleher – voice, piano
Meghan Kelleher, MFA is a singer, educator, songwriter, and producer. A Rhode Island native, she grew up singing at church, in school, and in regional musical theatre productions. She joined every chorus and a cappella group she could at school and in the community, including the Junior Providence Singers, with whom she performed at Carnegie Hall and on the Today Show in 2005. Meghan began studying voice privately at the age of 13 and sang in the RIMEA All-State Choral Festival every year she was eligible, ranking first in the state for four consecutive years.
Meghan graduated from Brown University in 2012 with a B.A. in Music History, Theory, and Composition. She co-wrote and music directed three original musicals at Brown, and served as a dual performer/music director for multiple student opera companies as well as the all-female a cappella group the Ursa Minors, for whom she arranged dozens of songs. In 2011, Brown University awarded her the David Laurent Prize for Vocal Excellence, and in 2012 she won the top prize at the NATS Boston Musical Theatre Competition.
After graduation, Meghan went on to join the Providence Singers, where she was awarded the Fassett Fellowship for talented young singers. In 2013 she was the soprano soloist in the Boston leg of the Legend of Zelda: Symphony of the Goddesses tour at the Wang Center (Meghan is a passionate video game nerd and this remains one of her most eccentric and treasured musical experiences to date!)
In 2017, Meghan earned her MFA in Theatre from Sarah Lawrence College. Her studies centered around collaboration, creation of new work, and exploring ways to push the boundaries of music and sound design in live performance. Her thesis project, Give Me Some Space, was a one-woman musical written, directed, and performed by Meghan. She went on to perform an excerpt from the show at Dixon Place in New York City.
Meghan music directed the 2017 off-Broadway production of Jack and the Beanstalk at Abrons Arts Center. The cast ranged from absolute beginners to seasoned Broadway stars and spanned ages 8 through 50+. Meghan moved home to Rhode Island in 2018 and does freelance audio post-production on a diverse array of projects from massive music festivals to podcasts. She is also recording and producing a synth-pop album.
In her spare time, Meghan listens to everything from Renaissance polyphony to K-Pop. She is a firm believer that everyone can sing, and joy and passion are just as important as technique.