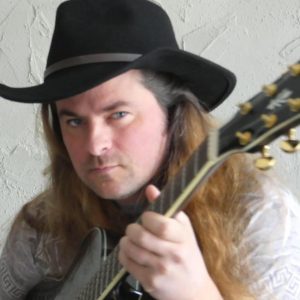 Chad Cummings – Piano, Guitar, Bass, Voice; Rock & Pop
Chad Cummings has been teaching at Mountain Top since the school's early days. He leads the rock and pop music side of the school, teaching guitar, piano, bass and voice. Chad tailors his teaching style to each student. "Every mind is different," he says. Chad works to find the best approach for each student, building a strong foundation and then filling in any gaps. "Ultimately, each student will become competent in basic music theory, scale knowledge, staff and chart reading, chord comping, song structure, and improvisation," he says.
Chad created Mountain Top's Jam/Cover Band program for students of guitar, bass, drums and electric keyboard. Chad teaches Jam Band students to listen to each other's playing and lock their timing together. They also learn how to build songs, take solos, play riffs and make efficient use of rehearsal time. The band does public performances throughout the year, and has a lot of fun!
Chad's passion for music was sparked at age 7 when he studied piano at the Maria Assumption Academy. He discovered guitar at 11, and by 15 he was performing professionally on the Greater Boston club circuit. The vibrant 1980s Boston original-music band scene opened opportunities for Chad with national acts. When he was 16, his band, Sudden Impact, landed the opening slot for Extreme (known for their chart-topping acoustic hit, "More Than Words.")  At 18, Chad was recruited as bass player and co-writer for Siloam, an Ottawa, Canada-based rock band. Siloam signed with Image 7 Records, and released its international debut album, Sweet Destiny, in 1991. The band toured extensively and had heavy radio play after the release of its album.
Chad plays bass and keyboards, and sings lead and harmony vocals, for Brazen Cane, a classic rock and new country band that's a favorite of audiences across New England. He also plays guitar, keyboard, and sings lead vocals, with Dark Train Express, where he showcases his original compositions. In the spring of 2020, he released his first instrumental/guitar album, Hot Cars and Fast Guitars, Vol 1. The album can be heard at chadcummings.hearnow.com, and is available on Apple Music and iTunes.