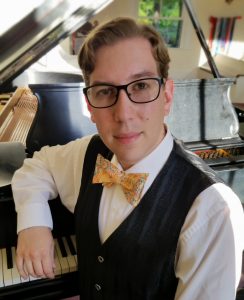 George Wiese – Executive Director; piano, trombone, musicology
George Wiese is a versatile musician who is equally at home in the roles of performer and educator. A graduate of the Juilliard School (New York) and the Peabody Conservatory of Johns Hopkins University (Baltimore), George enjoys a diverse musical career as a conductor, trombonist, pianist, and pedagogue.
As a conductor, George is currently Music Director of the Mount Washington Valley Choral Society and the Moosehead Region Community Chorus. From 2007-2009 he served as the Artistic Director of the Chamber Orchestra of Mount Vernon Place in Baltimore, MD, during which time he was also an assistant on the staff of Concert Artists of Baltimore. In 2009 George was Music Director of the Chicago Summer Repertory Workshop, where in 6 days he conducted the 9 symphonies of Beethoven, the 12 "London" Symphonies of Haydn, and the 7 late symphonies of Mozart. From 2009-2011 George was the Assistant Conductor of the Southern Maine Symphony. Since 2004 George has enjoyed guest conducting many orchestras and chamber ensembles, and numerous theatrical productions.
The only child of a trumpet-playing father and French horn-playing mother, George excelled at the trombone early, and began to play professionally at age 13. His free-lance tromboning has been the source of great adventure: whether it's playing with an orchestra at Lincoln Center, in a pit on Broadway, with a quintet on TV, or with the Hunt brothers on Wednesday nights at AJ's Tavern in Stoneham, ME, "there's never a dull moment when you've got a trombone."
As a pianist, George finds particular joy in collaboration. He has been a choral accompanist in Europe, a theatre accompanist in New York, and a classical accompanist in New England. It is this facet of his career that has led to George's love of the cross-over genres found in musical theatre repertoire – productions of which have become a life-long serious hobby.
Currently, George is the Executive Director of Mountain Top Music Center in Conway, NH – a position he has held since 2011. Also a member of the teaching faculty at MTMC, he particularly enjoys teaching the popular "Topics in Music Appreciation" class.